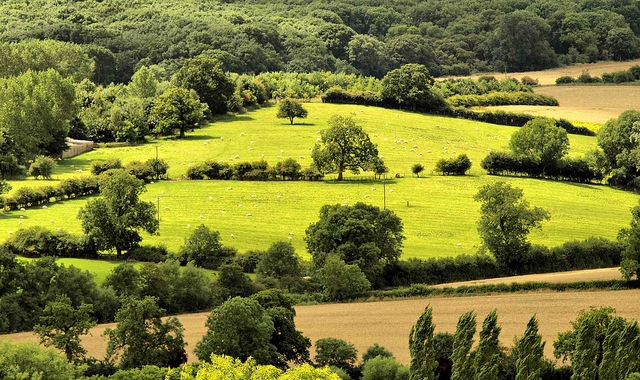 Lazy bones…
Could there be any place more beautiful than the English countryside when the sun shines? I think it takes some beating. All those years enduring rain rain rain over the summer months, and Lo! This year, the sun came out, and stayed out, and here it is again on September 5th.
The weather man says it's all going to change tomorrow. There's double raindrops coming out of the cloud graphic on the BBC website. Sadness overwhelms me.  Yet what's to complain about? It's been GORGEOUS here, and the rain is what makes us so green and beautiful.
No matter where I go, when the plane gets back into UK airspace, (normally indicated by the thick blanket of white cloud), it's the green fields that tell me I'm home. Not big green fields, but small ones, oddly shaped, demarcated by the feudal landlords that controlled such things many hundreds of years ago. Ancient stone walls. Cotton-wool sheep. Copses and spinneys, hay bales and giant wheels of golden straw. English countryside, in all its glory.
So thanks, Sun. Excellent job. Well done. Much appreciado. And if the rain comes down tomorrow in a double-raindrop thunder graphic, then so be it. But spare a thought for those of us whose blood is mixed from warmer climes. We need the sun to warm our bones, and our ancient Anglo-Saxon neighbours quite like it too, so don't be shy. Visit again soon.